I guess I'm inspired today by the recent Museum night in Amsterdam. I wanted to write you some hidden gems that I believe are a must-visit while you visit this city. And as I have more than 5, there will be a part 2.
Let's dive in,
1. Begijnhof Courtyard: This one is in the city center. Walking in through the old entrance, it's as if you've entered a different era, where people once found peace and spirituality. Also, everything will pause, and somehow, you feel you need to whisper inside. The paths are made of old, bumpy stones, and you'll see quaint, old houses surrounded by a beautiful garden. In the middle of this little gem is the Begijnhof Chapel, a small, peaceful chapel for moments of reflection. If there is no service, try to go until the furthest point of your left side. Then, you will see a painting on the wall showing women of the time involved in different activities. You will recognize the same outfit on a statue when you go outside and walk towards the Houtenhuis, the oldest wooden house in Amsterdam -renovated, of course. Also, look at the details of the lamp on your left side while observing the painting. The entrance is free, but I recommend you to check the website to be aware of the time of prayers.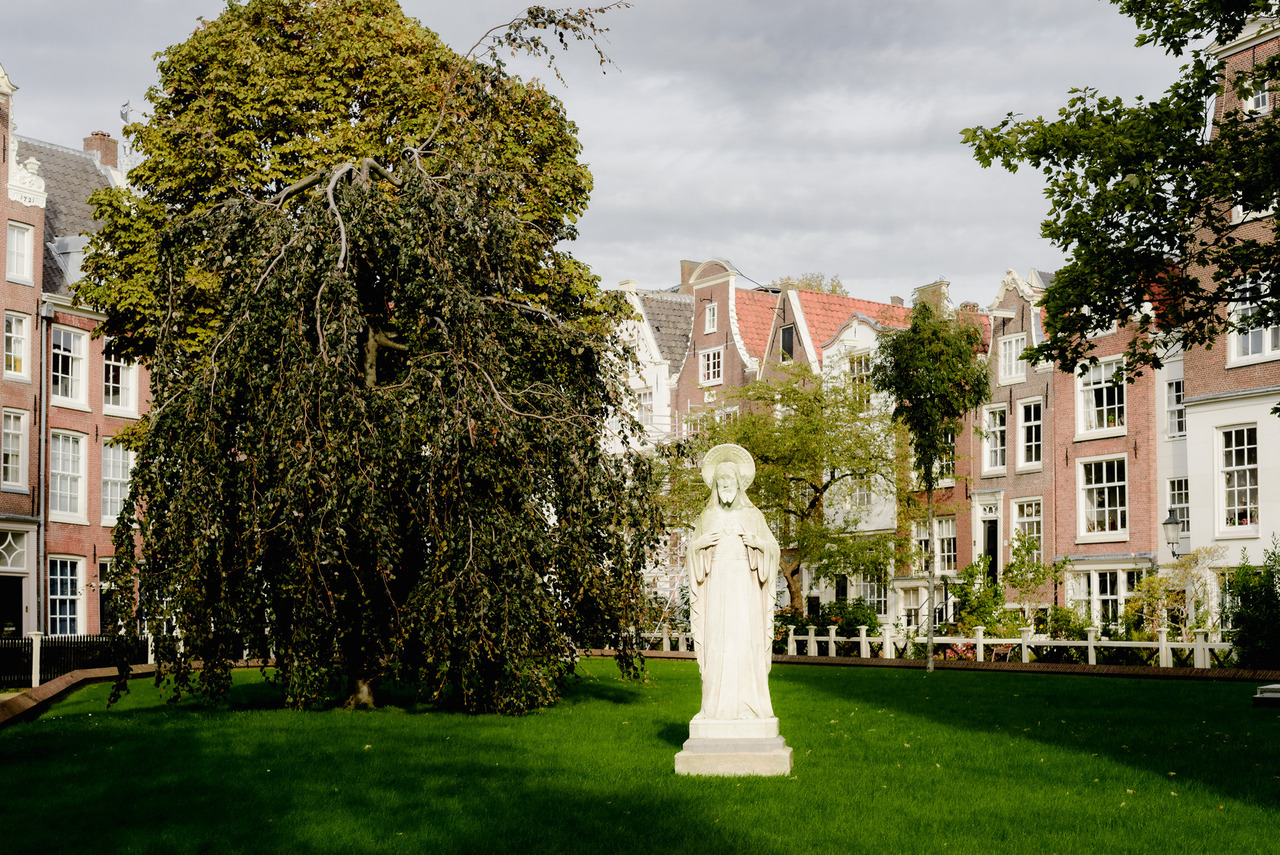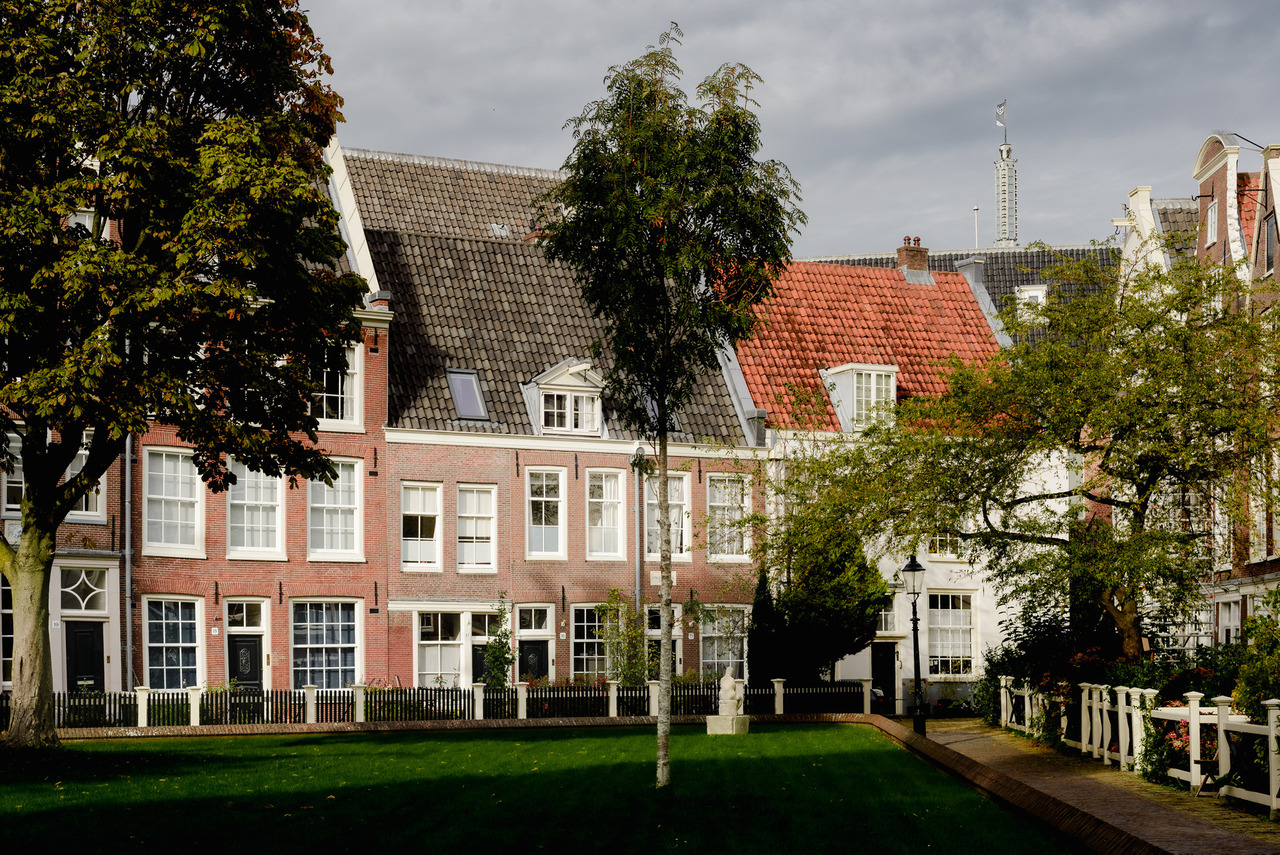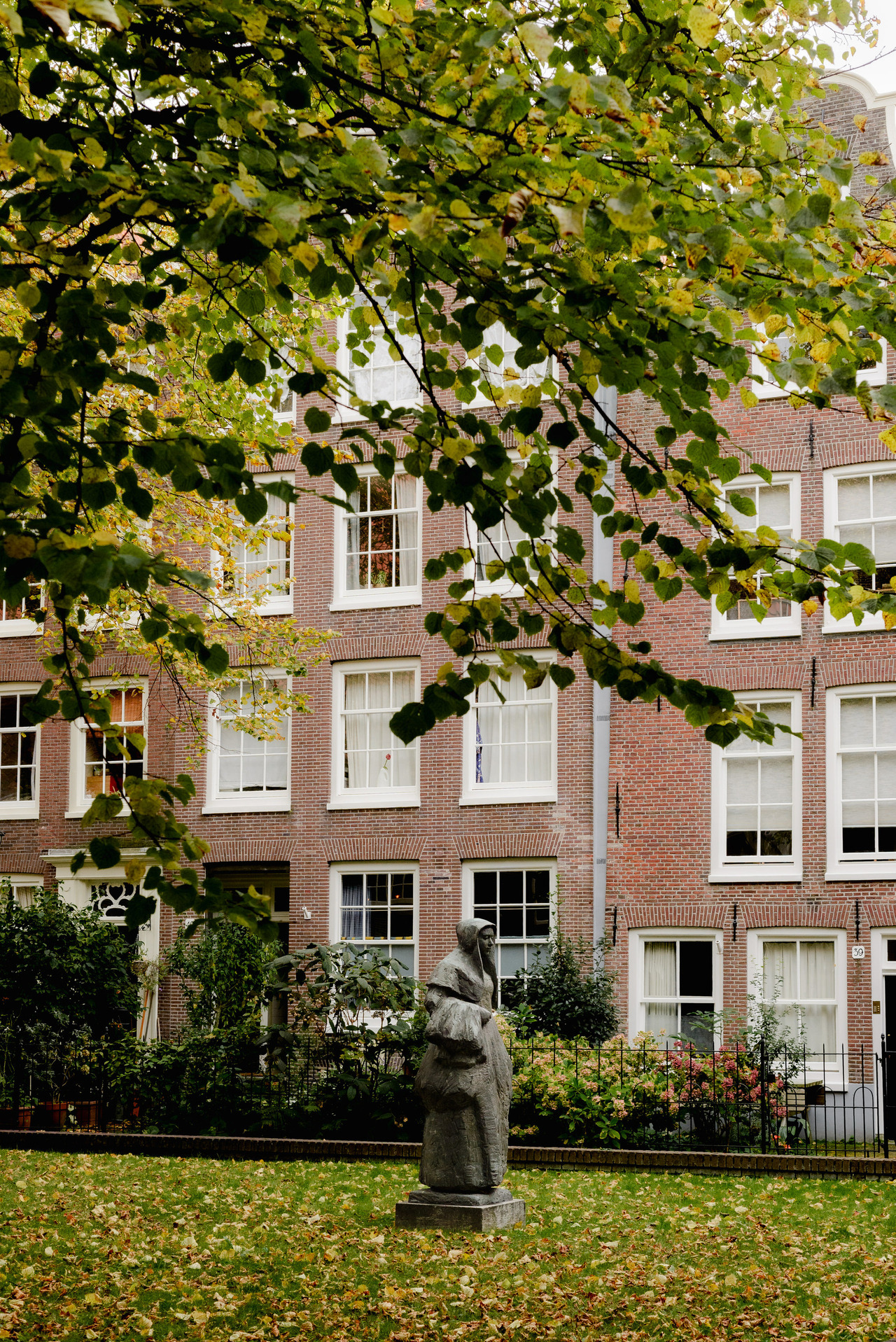 These pictures were taken during one of the Lifestyle routes I conducted in October 2023. Knowing where to go and understand what you are seeing, but most of all, having the professional pictures to showcase this is what my clients love. They can show their photo books explaining the stories told while walking around.
---
2. Our Lord in the Attic is on the edge of the De Wallen district, usually known as the Red Light District. It tells a remarkable story of how Dutch society allowed people to practice their faith discreetly during religious differences. When you visit this museum, it feels like you've traveled back in time, making it a great place to explore and take photos due to its historical and architectural importance. Find information and tickets here.
---
3. The Willet-Holthuysen Museum showcases the elegance of a 17th-century canal house. You can step inside and get a glimpse of what life was like back in the 17th century. The museum is all about taking you back in time, showing you how people lived and decorated their homes back then. It's a great spot to check out if you're into history and want to see some impressive interiors. One thing to be aware of when you are here is that one of the ceilings was brought from the former canal houses at de Raadhuisstrat (the street behind the Royal Palace), which were demolished in the early 17th century. Find information and tickets here.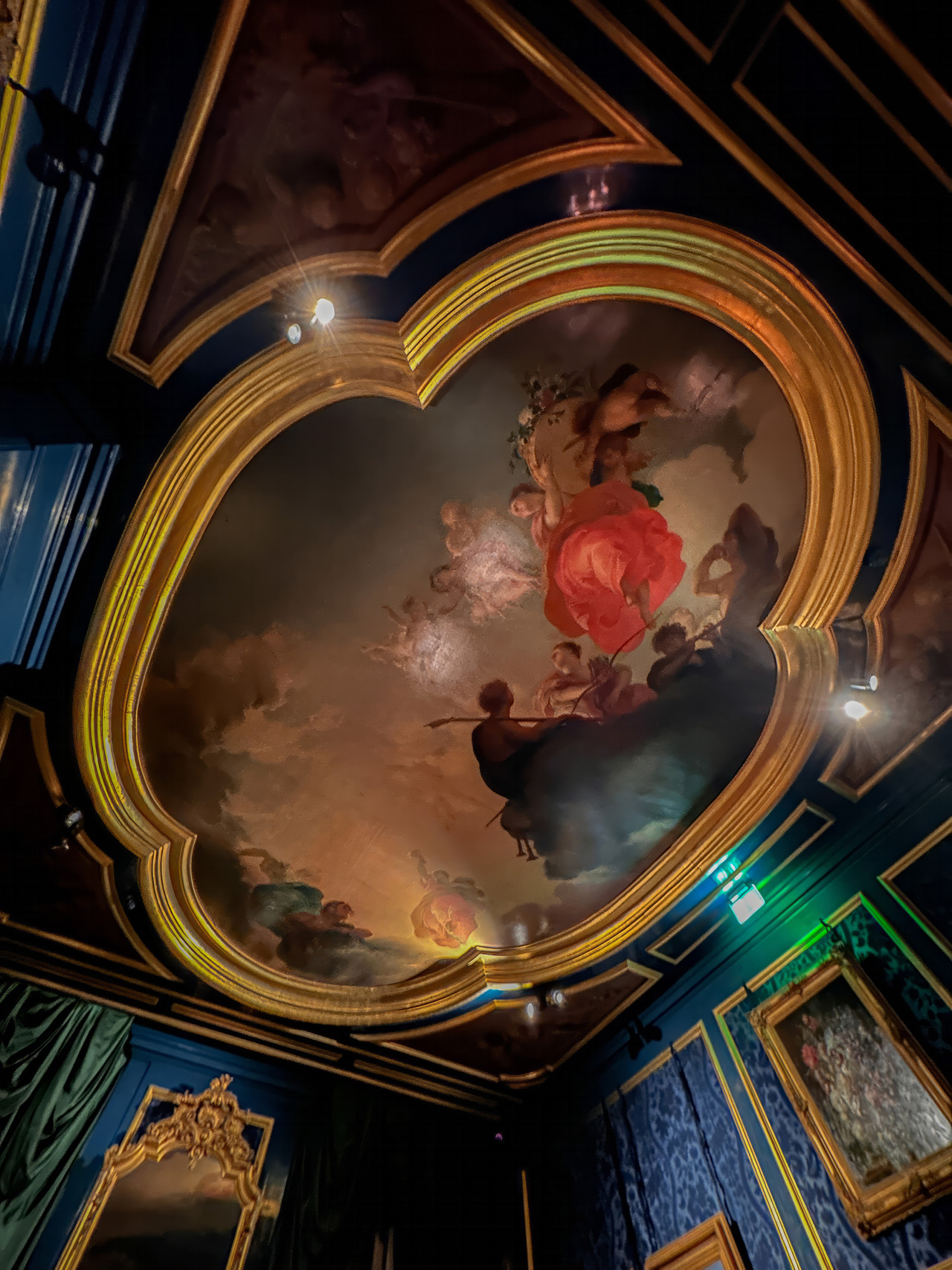 I took this picture during Amsterdam Museum night 2023 (Amsterdam Museumacht). I only had an iPhone 14Pro while visiting the museum at night. Can you imagine how they transported this ceiling here? This is an answer I still don't have.
You can check the summary of the museums we visited on Museumnacht 2023 here:
---
4. Prinseneiland is a pretty cool spot in Amsterdam, located in the western part of the city. The Drie Haringenbrug, which translates to "Three Herrings Bridge," is the most exciting bridge in Amsterdam. It only allows one person or bike to go as it is the narrowest I have found so far in the city. It's an old and beautiful bridge connecting the island to the town. This area used to be a bustling hub for shipbuilding during Amsterdam's maritime past, and you can still see hints of that history in the industrial-chic buildings and canals. Today, Prinseneiland is more laid-back and residential, making it a peaceful place to explore and enjoy the charming canalside vibes of Amsterdam. This is also my favorite place to walk around while capturing city pictures, and it is within walking distance from Jordaan. Hint to find it: Cross the avenue and pass to the other side of the train tracks, and as it is on the street, it's completely free.
---
5. Spaarndammerbuurt is a fantastic neighborhood in Amsterdam, in which you can find plenty of restaurants and cafés. But we are here to visit one of its standout spots, "Het Schip." This unique building, designed by the talented architect Michel de Klerk, is a masterpiece of Amsterdam School architecture. It's got this funky, almost whimsical design with brickwork that's quite different from your usual Amsterdam buildings. And guess what? 2023 marks the 100th anniversary of Michel de Klerk's passing, and the museum is opening a Michel de Klerk-focused exhibition this November 17th and running until September next year. So, it's a perfect time to check out "Het Schip" and appreciate the work of this legendary architect. Inside, you can learn about Amsterdam's social housing history and see how people used to live here. A must-visit for architecture and history buffs when you're in Amsterdam! About the entrances, you can see the buildings from the outside for free, but if you want to get inside the museum, you can find information here (no need to reserve a ticket in advance). There are explanations in English and Dutch at selected hours; people from the museum will tell you if one is happening soon.
---
In a city as vibrant as Amsterdam, the adventure never ends. So next time you find yourself strolling the iconic canals or exploring the famous museums, don't forget to wander off the usual routes and discover these hidden gems. They're like little secrets waiting to be shared, giving you a new perspective on this wonderful city. Amsterdam's charm goes far beyond its famous landmarks, and it's the hidden gems that often hold the most surprises.
Keep exploring, keep capturing, and keep making memories. Amsterdam has endless treasures waiting just around the corner.
Until next time in Amsterdam, keep discovering, and happy travels!
Joanna, your Amsterdam photographer
Enhance your Amsterdam memories with your personal photographer. We provide photo sessions for couples and families, along with full-day Lifestyle routes, combining a guided tour and photography to capture your trip beautifully.